...for a tasty and healthy Mediterranean diet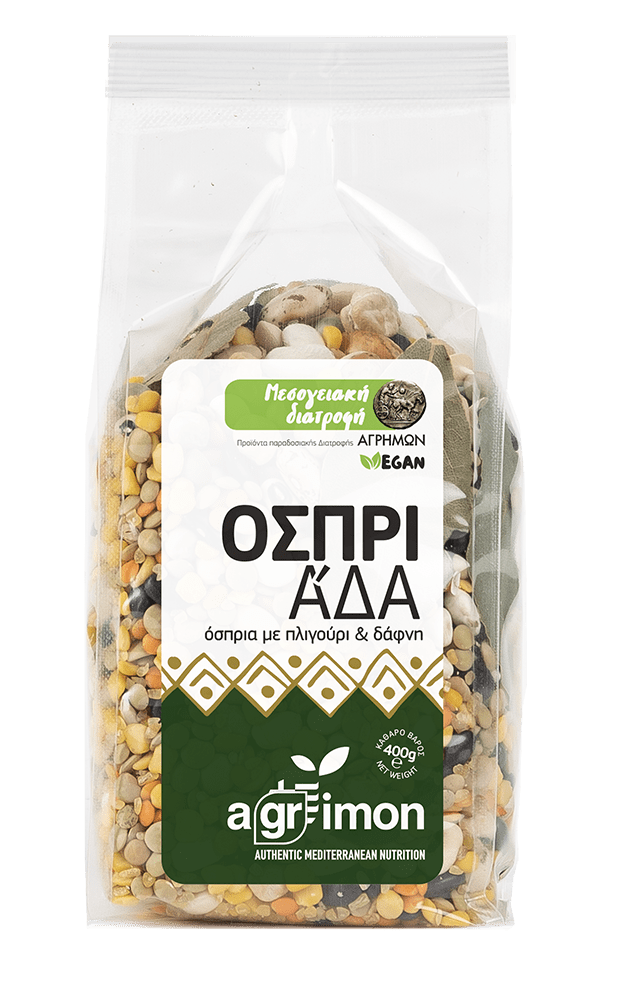 Rooted in the old days and the Greek tradition in honor of Holy Mary and in hope of successfully sowing seeds! A mixture of pulses with groats and laurel. Easy to cook as a salad or a soup with exquisite flavor! For those who desire a high-quality and well-balanced diet that provides support in the challenges of everyday life!

INGREDIENTS: Great Northern Beans 12%, Medium Chickpeas 11%, Large Chickpeas – Mid-sized Lentils- Small-sized Lentils –Groats -Split Peas and Peas 8%, Black Beans and Black-eyed Peas 7%, Red Lentils and Cranberry Beans 6%, laurel 0.1%. Carefully selected pulses and cracked, parboiled wheat (groats) from places of the world that produce them in the highest quality!  
| | |
| --- | --- |
| NUTRITION FACTS | PER 100gr |
| Energy | 1422kj/337kcal |
| Fat | 2,4gr |
| of which saturates | 0,5gr |
| Carbohydrate | 48gr |
| of which sugars | 2,4gr |
| Fiber | 17,4gr |
| Protein | 22,21gr |
| Salt | 0,05gr |