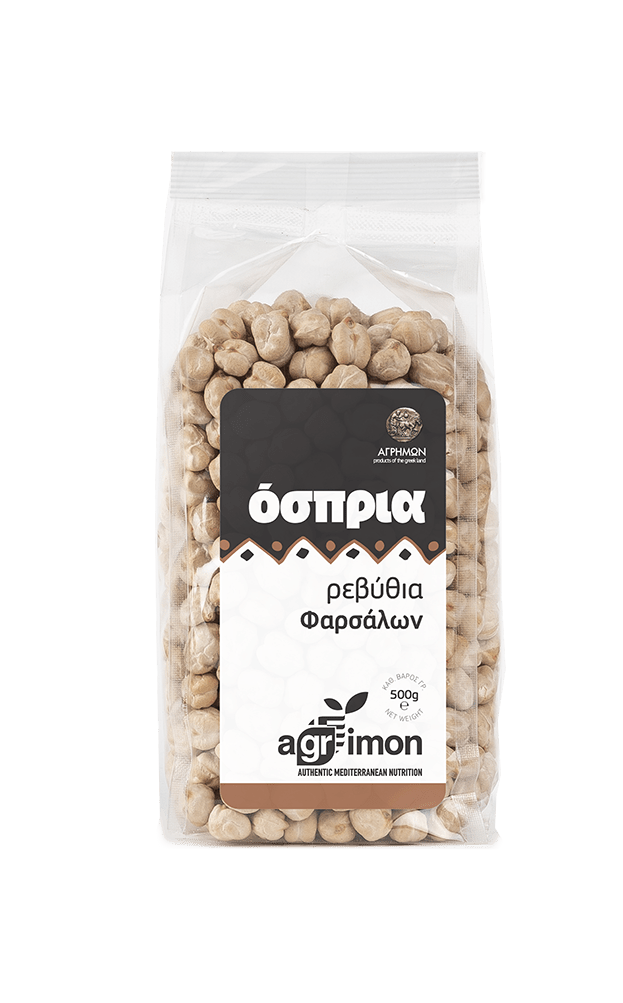 A source of plant-based protein, fibre, phosphorus, magnesium, iron and many vitamins. They contribute to maintaining bone structure, the muscular system and metabolism.
Ingredients: Chickpeas
NUTRITION FACTS
PER 100gr

Energy

1422kj/336kcal

F

at

5,5gr

of which saturates

1,1gr

Carbohydrate

49gr

of which sugars

3,7gr

Fiber

14gr

Protein

20gr

Salt

0,06gr
Combined with grains (groats, rice), they can replace meat as the grains carry amino acids that are combined with the amino acids carried by the proteins contained in the chickpeas.
Chickpeas from Farsala are traditionally grown in Thessaly. They are easily boiled, delicious and renowned all over Greece.
How to cook them
Soak them in water overnight. They can be cooked in many ways. For example, boiled with celery and salt or cooked as a soup with tomato as well as in the oven with eggplants revealing their unique aroma and distinctive taste.
Are there any leftovers? Turn them into falafel/vegetarian chickpea meatballs or chickpea rice, according to the traditional cuisine of Smyrna!
In the Middle East, they put together boiled chickpeas, tahini and olive oil and make a delicious and highly nutritional salad named hummus that is now well-known all over the world.